Almost every mom seems to be trying to find ways to make extra money and work from home. A great way to make passive income from home is by starting a blog! It can seem daunting to post your thoughts out there for strangers. It can also be daunting trying to figure out how to maneuver creating and upkeeping a blog. However, it doesn't have to be scary!
Can Bloggers Actually Make Money?
ABSOLUTELY. IF you are willing to work on it. It isn't easy. In fact, it is hard and at times, hella frustrating. Why? Because you are starting a business from scratch. You need to build the foundations and work up from the bottom. At times it will feel like no one is listening. At times it will feel like you are eating, sleeping and breathing your blog. But, it can pay off. Consider some of my blogging heroes:
Elna Cain owns twinsmommy and elnacain along with other blogs. She makes a full time income from blogging and freelance writing.
Michelle from making sense of cents makes over $100,000 a month.
Practical Wanderlust makes over $4,300 a month!
So what do these bloggers have in common with you?
A desire to work from home and better their lives combined with a dedicated drive to do it.
It is possible to make an income working as a blogger. It takes time and dedication, but it is worth all of the effort in the end.
How To Start Your Blog
Pick a Niche:
What topic could you talk about until the end of time and not get sick of it? What things do you know and understand like the back of your hand? What things will you be willing to do research on? What topics NEED to be answered?
These questions will give you an idea of a good niche for you. You want it to be something that will put money in your pocket, but that you can put quality effort into.
Possible niches are:
Travel
Photography
Cooking
Parenting
Gardening
Baking
Lifestyle
Blogging
Finance
Of course, this isn't an exhaustive list. These are just some really general categories. Don't forget you want to talk about what readers NEED. So chances are talking about your dog and how he loves to walk .04 KM every morning won't attract readers. But maybe how you made a business making $500 dollars a month by walking dogs will!
Choose Your Domain and Hosting:
This is a pretty important step since this is where your hard-earned cash is being invested.
When choosing your domain name, or the title of your site, make something short and memorable. Make sure it is also relevant to your topic or niche so that people will associate the two.
As for hosting, this is who you will trust to keep your site open and running. Personally, I use Hostinger for my hosting. They have good support, and most importantly are a budget-friendly option! In fact, plans start as low as $.99/month!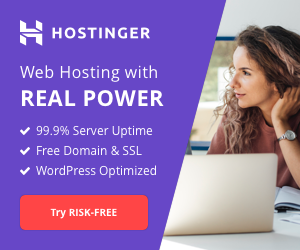 Can't I Just Use The Free Options For Blogging?
Yes- But it isn't recommended. Trust me because I didn't listen. 
By using free hosting, you do not own your site and it can be shut down at any time. You cannot advertise on it or sell items. You also can't install plugins that make it easy to navigate your blog. 
Make Your Blog Look Pretty
Now is the fun part. You get to make your blog look exactly how you want. Choose a suitable color or two to showcase your brand, your fonts, pictures, etc.
Don't forget to make a logo. You can easily do this on Canva for free, or get someone on a site like Fiverr to do it for you. 
Your tagline should be something short, but talk to your perspective clientele. Tell them what they can expect if they follow you. 
You can install plugins that make your blog easier to run! These include:
Yoast SEO. This Plugin helps you write in a way that will get you to rank higher in search engines like google.
WP Last Modified Info. This plugin makes google reflect the last time you modified your posts. This is good since information is always changing, people want the latest information. 
Pin It Button. This adds the button to pin your images right on someones Pinterest.
Social Share. This allows people to easily find your social media so you can keep contact with them. 
The world is your oyster! Write about whatever is relevant to your niche. You can choose to write however often you want, just try to make sure that it is consistent so that you don't allow people to forget about you. 
It can be hard to find the time to write frequently, but don't forget that it is quality over quantity. One well written post per week is better than five haphazard posts. 
Conclusion:
Starting a blog is fun and nerve wracking. It can be a lot of work, but with so many extensive guides, it can be easier than you think. It isn't a quick solution to get rich, but it can pay off if you are willing to put the work in. 
Have you started a blog? Comment your URL below!
If you like this, share it!